PayPal, an eBay company, is the global leader of online payment solutions, with more than 153 million members worldwide and a total payment volume of US$38 billion (HK$296B) in 2006 – approximately 5% of global online consumer e-commerce.

Accepted Worldwide – PayPal is used by millions of eBay buyers and sellers, online retailers and other businesses and is available in over 190 markets around the world and in more than 17 currencies. It is the preferred payment method on eBay by 5 out of 6 buyers.1

PayPal is an all-in-one secure payment solution that enables any individual or business with an email address multiple ways to send and receive money online, including credit cards, debit cards, bank transfers.2 All you need to get started is an email address.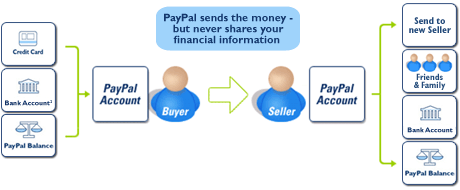 eBay buyers and sellers prefer using PayPal to send and receive online payments because it's fast, secure,
easy and cost effective.



Fast
PayPal lets you instantly send and receive payments online. Buyers have multiple ways to pay - credit card, bank account, and other sources.1 For Sellers, there's no more waiting for cheques or money orders to clear.
Easy
Make payments securely with the click of a button - no more hassle typing in credit card information for your purchases. Tracking transactions is simple with PayPal's reporting tools. PayPal can also be effortlessly integrated with eBay auctions.
Secure
Buy safely and worry-free - without disclosing your financial information. Get Verified for added security. Plus, PayPal offers many ways to help you safeguard online privacy, prevent fraud, and protect your profits, whether it's with our anti-fraud technology, our protections programs, or our online education and guides. Learn more.
Global
Gain instant access to millions of buyers. PayPal is trusted worldwide, with more than 120 million PayPal accounts and growing, making us one of the most trusted names in online payments and security.
Cost Effective
It's free to pay for purchases or send money to anyone with an email address in 103 countries and regions and 17 currencies. For sellers with premier and business accounts, you only pay only when you accept payments. No set-up or monthly fees.3